NIHR organizes an "Environmental Awareness Bus" Event in cooperation with Capital Secretariat and Ministry of Education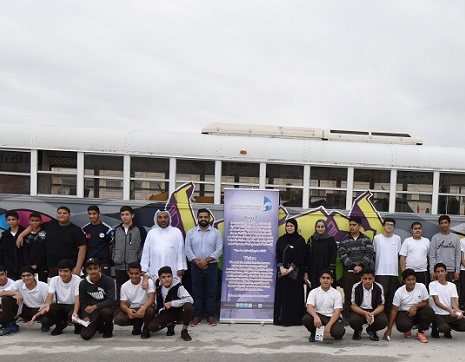 In line with its role in achieving its goals in promoting a culture for human rights in the Kingdom of Bahrain, the National Institution for Human Rights (NIHR) organized
An "Environmental Awareness Bus" event, in cooperation with the Capital Secretariat and the Ministry of Education, aimed at promoting the right to the environment by encouraging participants to preserve the environment in order to achieve environmental safety, which is one of the requirements of human right because it is entirely connected with the right to life, health and food.
During the two-day event, which targeted primary school students at Abu-Bakr Al-Siddiq Elementary School for Boys and Nabih Saleh Primary School for Girls, Mrs. Fatema
Al Tarif, Head of the NIHR Training and Education Unit, and Mrs. Maryam Seyadi, Administrator at NIHR's Training and Education Unit, presented an overview of NIHR's role in promoting and protecting Human rights in the Kingdom of Bahrain, especially the right to a safe environment. Mr. Sadiq Al-Halwachi, from the Capital Secretariat, also presented an overview on the importance of recycling and finding ideal solutions for waste disposal.
This event falls within the events and training programs organized by the NIHR, in cooperation with various official bodies and institutions, in implementation of its strategy and action plan in promoting and protecting human rights in the Kingdom of Bahrain.