NIHR and Bahrain Women Union discuss Aspects of Cooperation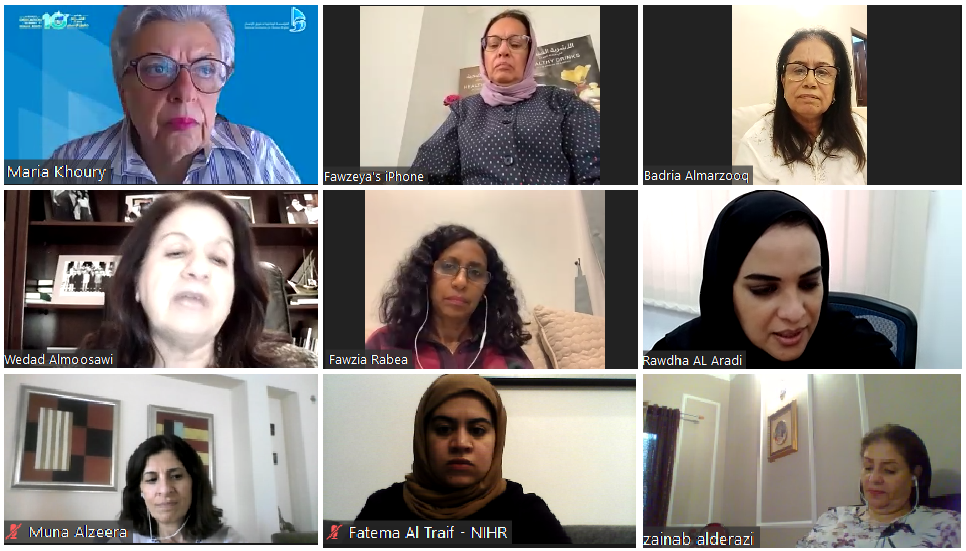 Within the framework of cooperation with civil society institutions to achieve the common goals of promoting and protecting human rights in the Kingdom of Bahrain, Ms. Maria Khoury, Chairperson of the National Institution for Human Rights (NIHR), held a videoconference meeting with Mrs. Badria Al-Marzouk, Chairwoman of the Board of Directors of the Bahraini Women Union, to discuss aspects of cooperation between the two sides, in the presence of a number of female members of the NIHR Council of Commissioners and the Union.
During the meeting, Ms. Khoury congratulated the Chairwoman and members of the Bahraini Women Union on the occasion of International Women's Day, and praised the effective efforts made by Bahraini women to confront the exceptional circumstances of the Coronavirus pandemic (Covid-19) that the country is going through, appreciating the important role of the Union in continuously supporting Bahraini women, affirming at the same time the NIHR's full support of the efforts made by the NIHR.
During the meeting, the two sides discussed a number of issues related to laws and legislations that promote and protect the rights of women guaranteed by the Constitution of the Kingdom of Bahrain and the national laws in line with international charters and covenants ratified by the Kingdom of Bahrain.
For their part, the Chairman of the Union appreciated the NIHR's efforts in supporting women, praising the NIHR's constructive cooperation with the Union to achieve common goals.